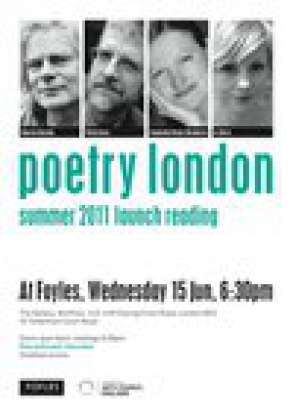 Summer 2011 Launch
article [ ]
Poetry London

- - - - - - - - - - - - - - - - - - - - - - - - -
by Gunsel DJEMAL [Djemagu ]
2011-05-22 | |
Time: 18:30 - 21:30
Date: 15 June
Location
Foyles, The Gallery, 113–119 Charing Cross Road, London WC2
Created by:
Poetry London
More info
Come and share with us some of the delights soon available in the Summer issue of Poetry London.

Maurice Riordan, Philip Gross, Samantha Wynne-Rhydderch and Liz Berry will be reading from their poems in the magazine, as well as other work.

Doors open at 6pm for 6.30pm start.
Free entrance. Free wine.

All welcome!