---
agonia
texts
comments
members
Collections
workshop

Online Bookshop
classics
chat
photo
Literary TopSites
links
links



Recommended Reading
■ Rise up (and walk)
■ NEW BOOK: THE DREAM
■ in return for your navy blue shirt
■ Spectrum
■ My life. Mother of mine
■ (half)
■ Green roots. Trampling down death by death
■ The only thing
■ In our image and our likeness
■ passage. if today
■ Us
■ Philosophia Perennis
■ Active rest with hand on the knife
■ Metaphysical guilt
■ a theory of apocalypse
■ s m i l e


Romanian Spell-Checker
Poezie - Poezii
Dictionar de rime
proza, eseuri, literatura
Literary TopSites
noutati IT, jocuri
Romanian Trends
Laptop

Contact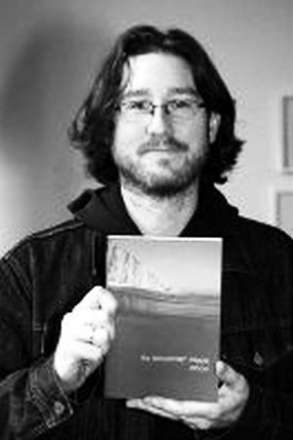 Interview with the poet Graham Clifford
article [ Interviews ]
Compilation: Intersectii Culturale

- - - - - - - - - - - - - - - - - - - - - - - - -
by Postolache Cristina [Reila ]
2011-12-28 | |
Interview with the poet Graham Clifford

Graham Clifford, 38, is an assistant head teacher at Buxton School in Leytonstone, east London. He has been writing poetry for 10 years and picked up the Poetry Wales Purple Moose Prize 2010, winning the chance to have a collection of his poems published. It is called "Welcome Back to the Country".

1.When did you get serious about writing poetry?
I did a master in creative writing at the University of East Anglia in 2001, studying under then poet laureate Andrew Motion. My work has been published in various magazines since then, and I've performed at the "Hay-on-Wye" and "Bridport" literary festivals.

2.When your first collection of poetry was published?
My first collection of poetry was published this January by Seren Publishers. It is entitledWelcome Back to the Country. The oldest poem is about eight years old. The majority of poems have, in some version or another, either been printed in journals and magazines, been commended and won competitions or been included in anthologies. My intention has always been to connect with a readership. I intend to do what all the best writers and artists intend, to see the world afresh and communicate this vision. Even whilst training as a visual artist, I held a deep commitment to the written word and as time went by found myself reading more poetry and writing it. It seemed the most natural thing in the world, though it has taken many years for me to consider myself a poet. My poetry is all influenced by life events. I write a lot about experiences, either directly or obliquely, so making a cup of tea could spark a thought process which ends as a poem . I read very widely as well, often many poets in translation, which feeds and nourishes my will to write. I often feel I cant read without a pen and notebook to hand – its as if I know that likely as not, before I get to the end of a poem I will be thinking of my own poem, sometimes in a way communicating to the poem I'm reading, or rewriting the poem in my own way, or it may simply be the "word buzz" which gets me thinking in a writerly way. As to what message do I intend to communicate – the act of making art is in itself a political communication. It is about human beings creating beauty and wanting to communicate this. It is also about the individual, and the desire to be appreciated as such. Listen to this, I must be saying, isn't it funny/clever/surprising/heartbreaking.

3.What themes do you explore?
"I've lived in London since I came to study fine art in 1992, but I grew up in the country, in Wootton Bassett in Wiltshire. I feel very lucky to feel attached to both the country and the city and this throws up some interesting angles. It is about trying to find the beautiful in the mundane and sometimes ghastly. One poem, "Nowhere Fast", is about being in London - it's a riot when you are walking around. My work is also humorous, but it's not comedy poetry."

4.Do you bring your poetry into the classroom?
"I've used it a lot. I'm always looking for ways to get pupils from different schools in the area to share their work. We have a poetry week coming up, with creative writing sessions, and we are always making links with local writers. I've used teaching as a theme in a couple of poems in my new collection."

5.Which poets do you particularly admire?
"I'm a fan of the American writer Tony Hoagland who deals with contemporary, urban life. I also like Billy Collins - he's very readable and humorous."



6. Why does the poet feel responsible for the poem's destiny? One poem may find immediate tremendous success, whereas another one may find it years and years (if not decades or centuries) later.



I do feel responsible for my poems, in the sense that if they are to go out in the world they must be well made and carefully considered. I don't want them to fall apart under scrutiny, or for poor craftsmanship to detract from the effect: the responsibility is to that initial urge to write and communicate, to be faithful to the poem as it suggests its own making. And yes, some poems do seem to come together very quickly and feel "whole", in which case they can be viewed as "successful."




7. Does poetry need to educate?


It all turns on what is meant by "educate." I like to think that coming into contact with art – hearing, seeing, experiencing –changes you; makes you aware of something you weren't previously, or reminds you of something you had forgotten. Is this education? It could be seen this way. Does it need to, though? No. It can excite or amuse. Or irritate. Or provoke. Poetry needs to do something, though. To connect with the reader. To paraphrase Dickinson , it should blow the top of your head off. Or smash Kafka's ice.



8. Does the poet need to educate?


Does the poet have a responsibility to educate? Certainly there are great poets who also are academics and do teach. But must a poet educate? It is healthy to be in conversation with others about poetry and poetics. Can a poet be outside of this? The American poet Kay Ryan talks of the need for her to metaphorically walk off in her own direction. I take this as meaning she needed a great deal of time to herself to form her own aesthetic, and guard it and tend it. I have a lot of sympathy for this point of view. Simply by being a poet can be an educative act. But poets are as various of character as the rest of the human race.


9. Is there a poem that surprised you with how it chose to unfold?


I am sometimes surprised and the unfolding of a poem, how it can drop down from the top line like a rope ladder. It may well need tweaking after, but those moments are special. But it has to be remembered that all the work, all the notes going nowhere, all the scribblings, are precursors to those happy moments. So in fact, there is a head of steam building subconsciously behind these unfoldings. And similarly there are poems which have to be chipped away at over years. A big block of text may contain a simple poem germ which lasts as the rest of the words decay, leaving what needed to be written.



10. Do poems write themselves?


Poems are like synaptic networks outside of the cosiness of a skull. They are impulses, thoughts which require a form. The poet writes and reads what has been written. It might seem wrong or out of order or hint at something else. There is a back and forth motion between the poem and the writer. It is like a game to tease out of the writer something better than she could have thought of. The writer knows there is something inside to say and needs the poem to extract that.



11. You are both a teacher and a poet.. From which one do you derive far more satisfaction? Which one is closer to who you are?


I have needed to have both poetry and teaching working simultaneously. I have found that my work (teaching) has nourished my creative work. As an assistant head I not only teach but oversee the running of a large school on a strategic level. I have gained a lot from being involved in an institution at this level. Currently, we are experiencing significant social change, globally and nationally, and being in education I really feel this. And for this, I am grateful to my career. But poetry and writing is who I am. Right now, before my book has been published, and with two children to support I will be an assistant head teacher for a while longer. There have been many poets who have worked full time and had great poetry careers – Wallace Stevens, Kay Ryan, O'Driscoll – and who have all drawn on their experiences, or used them to nourish them. But I see everything I do through the filter of being a poet. Every experience has the potential to be turned into a poem, and it is that way around.



12.Are you working at another collection of poems?

The collection which came out this year was published because I won a competition – the Poetry Wales 2010 Purple Moose Poetry Competition. Because the publisher liked my work so much she will be publishing a full length collection in 2014. This book is finished. I have a second collection in the rough in notebooks and on my PC, and feel that the poems I am writing day to day, presently, are from my third collection.



13. How important is for you to see your poems translated into Romanian?


It is hugely important to have my poems translated into Romanian. That I am in communication with you, because of poetry, makes me incredibly proud and excited. To think that the poems I have worked on my small laptop in my room in London could be read in Romania and – hopefully – be successful in connecting, is a great test and opportunity. I read as widely as I can, and many of my favourite poets I know solely from translation. Translation is both a science and an art, and is fantastically important. I am currently reading Tadeusz Rozewicz, the Polish poet, in translation by Adam Czerniawski. I know that what I am enjoying is from both poet and translator.



Biography

Born in Portsmouth 1973.
Grew up in RAF Lyneham, Wiltshire.
Studied BA Fine Art, Middlesex University in London . 1995
Creative Writing MA at the University of East Anglia . 2000
Teacher Training 2003

I have to date had over fifty poems published in the following magazines and competition anthologies:
The Rialto, Smiths Knoll, Magma, Staple, Iota, The Rue Bella, The Affectionate Punch, BAD Poetry, Obsessed with Pipework, Pitshanger Poetry Competition Anthology 2004, The New Writer 2004/7, Bridport Poetry Anthology 2006, Arvon/Telegraph International Poetry Competition Anthology 2002, The Poetry Paper 2008, Biscuit Publishing Poetry Prize Anthology 2007, Peterloo Poetry Prize Anthology 2004, Frogmore Papers Poetry Competition Anthology 2004, Ragged Raven Press Poetry Anthology 2004, Writers Inc. Winners Anthology 2003 and Firsthand: The UEA MA Anthology 2001.
An online presence is developing also, with examples of my writing to be found atwww.poetrymagazines.org.uk and www.poetrypf.com.

Accolades include being sponsored by the Jerwood Foundation, and having performed at some of the most prestigious venues and events in the country, including Hay on Wye, Bridport Literary Festival and The Aldburgh International Festival of Poetry.
Among other successes, I have been commended and short listed in two Bridport Poetry Competitions (2004-9) and was commended in the 2002 Arvon Competition. Two short portfolios of poetry have each won first prizes in the Biscuit Publishing Poetry Collection Competition 2006 and the New Writer Poetry Collection Prize 2007. Other results include being commended in the 2008 Ledbury Poetry Competition and short listed in the Poetry Business Pamphlet Competition.




Poems


On a slope
Trapped for ever in this town
a green, open prison with too much sky,
too much surface area cooling quickly down

where spinsters and wealthy men who wear
ironed jeans scowl along supermarket aisles.
You serve them, burning up, desperate for

your share. Perhaps you have been forgotten
or the very best you deserve is a carnival
by the canal locks, featuring the local librarian

and her Silver Thread choir echoing into cul-de-sacs
through a P.A. system that plays
Devizes Hospital Radio simultaneously

while children that you used to be, drop their jaws
at the 70-something balloon-twister.
He has a fight with the puppet on his hand.

He makes them cry and rain darkens pavement and brick.
Swans refuse to be fed any more, to make givers happy;
what wring-able necks.

The supermarket clatters shut.
It's light for hours yet.
You go to cross the street, stop on double yellows –

all these roads lead to relatives, or abattoirs
frantic through the night with pigs and cows, or worse,
bend back on themselves.




Silt
Unchecked, perspective bends its own rules
along skirting boards and dadoes,
fidgeting to please be excused.

The cutlery drawer is a convoluted mantrap:
primed, extravagantly painful
in novelty, stainless-steel ways.

A shower of high-speed Morse
on the sunroom's cracked plastic
tells off of you in forensic detail.

Ragged Leylandii silhouettes lean in to earwig,
bristle like geed up mammals
devoid of faces, genitals, all but one stiff limb.

Tongue between teeth, careful,
you – talk – slower, for instance to a neighbour
about dried chicken blood as fertilizer.

His passion flowers' fruit
is the product of fancy upholstery,
bubble gum and mouse livers.

Knots in pine blind-stare at Artex and lino.
Embarrassed, a handful of daffs droop trumpets.
The bomb in the clock is taking forever.




What I Wrote
Do you remember what I wrote
on the back of my German book,
about Miss Moore, as some sort of joke?
And how she sent me to Fossey –
he had old elephant's ears
and a tin in his heart.

When I proffered das Buch
he churched his fingers
and told me to read what I'd written
then read it again, but this time
slow,
so the words could hurt us both properly.

I read and he leaned back
away from me.




On the dispersal of water
It's 1:30 am.
He takes me away from the others unpacking,
opens the front door to the first night
in our first home and squirts WD-40
over both hinges, explains
WD is water dispersal,
NASA concocted this stuff
to keep fields of rockets
from turning orange, then burnt umber.

He heard this on his pocket radio
cycling along blustery North London roads
that cut between the reservoirs,
buffeted by daydreams of microwaves
and languorous AM waves,
walloped by the slipstreams of juggernauts
that don't recognise bike lanes
on B roads where streetlights won't work.

He holds up my key and lubricates it
with a quick squirt of the clear oil,
slips it still wet in the lock
to revitalise inner gubbins:
he knows all the proper names.
When I turn my back to come inside
this kind man takes the squeak from the gate.


| index