---
agonia
texts
comments
members
Collections
workshop

Online Bookshop
classics
chat
photo
Literary TopSites
links
links



Recommended Reading
■ Rise up (and walk)
■ NEW BOOK: THE DREAM
■ in return for your navy blue shirt
■ Spectrum
■ My life. Mother of mine
■ (half)
■ Green roots. Trampling down death by death
■ The only thing
■ In our image and our likeness
■ passage. if today
■ Us
■ Philosophia Perennis
■ Active rest with hand on the knife
■ Metaphysical guilt
■ a theory of apocalypse
■ s m i l e


Romanian Spell-Checker
Poezie - Poezii
Dictionar de rime
proza, eseuri, literatura
Literary TopSites
noutati IT, jocuri
Romanian Trends
Laptop

Contact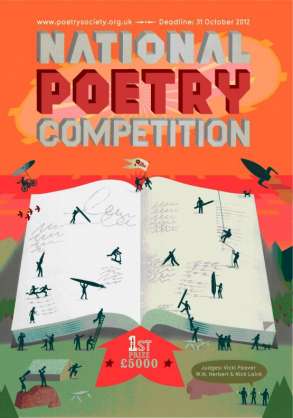 National Poetry Competition
article [ Culture ]


- - - - - - - - - - - - - - - - - - - - - - - - -
by Corina Gina Papouis [Trinity ]
2012-10-09 | |
The National Poetry Competition has been one of Britain's top single poem competitions since 1978. It is judged by a new set of judges each year, and all poems are made anonymous before they are judged. The National Poetry Competition is organised by the Poetry Society, one of Britain's most dynamic arts organisations, representing poetry both nationally and internationally.

The top-three winning poems will be published in Poetry Review. The winner is also invited to read at the Ledbury Poetry Festival in July 2013. Up to 150 entrants will also be offered a discount on selected activities from the Poetry School. Winning and commended poems will be published on the Poetry Society website when the competition prizes are announced in spring 2013.

This year the judges are: Vicki Feaver, W. N. Herbert and Nick Laird.

Each poem entered in the competition has to meet the criteria which is explained in detail here (www.poetrysociety.org.uk/content/competitions/npc/npcrules/)

Prizes:
First Prize: £5000
Second Prize: £2000
Third Prize: £1000
Seven Commendations: £100

Entry fees:
£6 for your first poem
£3 for each subsequent entry in the same submission.
FREE second entry for Poetry Society members.

The closing date is midnight (UK time), 31 October 2012.

Winners' names will be added to a roll-call that includes the current UK Poet Laureate Carol Ann Duffy, Tony Harrison, Ruth Padel, Philip Gross and Jo Shapcott.


Good luck to all participants!