---
agonia
texts
comments
members
Collections
workshop

Online Bookshop
classics
chat
photo
Literary TopSites
links
links



Recommended Reading
■ in return for your navy blue shirt
■ Spectrum
■ My life. Mother of mine
■ (half)
■ Green roots. Trampling down death by death
■ The only thing
■ In our image and our likeness
■ passage. if today
■ Us
■ Philosophia Perennis
■ Active rest with hand on the knife
■ Metaphysical guilt
■ a theory of apocalypse
■ s m i l e
■ Epistle of a millennial
■ so, listen...


Romanian Spell-Checker
Poezie - Poezii
Dictionar de rime
proza, eseuri, literatura
Literary TopSites
noutati IT, jocuri
Romanian Trends
Laptop

Contact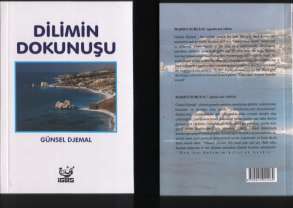 \"Touch of my tongue\" and \"There isn\'t a centre of Love\"
press [ Books ]


- - - - - - - - - - - - - - - - - - - - - - - - -
by Gunsel DJEMAL [Djemagu ]
2010-11-21 | |
GĂźnsel Djemal and Atilla ElĂźstĂźn have published their first poetry books in Istanbul-Turkey, December 2009 the books published in Turkish and in English as bilingual edition by IGUS publishers. The name of her Book is "Dilimin Dokunuşu" "Touch of my tongue" and the name of his book is "Yoktur Aşkın Ortası" "There isn't a centre of love".


In April she was invited to Tirana-Albania for the Third International Symposium "Poetic Muse PEGASI" "THE MAGIC OF TRANSLATION" APRIL 8-11 2010. She is a holder of 2 honorary prizes one for her own book and the other for translation of her own poems and Mr Atilla Elüstün's poems which she has introduced to www.agonia.net. Most of their poems translated into Greek, Italian and Albanian languages.



MARIUS SURLEAC agonia.net editor:
Günsel Djemal – her poems search the past, the way back home the memories and probably because of that "home-sweet-home" behaviour is reflected, where family is the core of a continuously developing universe, children are a basic point and all these help her to go further leaving behind some beautiful poems written especially with the heart. As well Günsel brings within the lines the urban perspective, writes down the lines with such a passion that romance is experienced as an arcs poetica and the most symbolic poem is "To Be". Poetry means a lot for her, that's why she hangs a shard from her soul in each poem. "I am a pen/sharper than the sword".


MARIUS SURLEAC agonia.net editor

Atilla Elüstün – When I read for the first time one of Atilla Elüstün's poems called "US", a sort of Mediterranean air crossed like a mid-breeze. His poems have an epic tendency and all of them push the reader across a joyful world having "carpe diem" a perpetual motif – here romance looks like a smooth background and visual effects help his poetry implying an important role for keeping the elements strong together "in the apple of your eyes/had drunk the sea" ("Lonely Summer"). Time stops flowing in his poems and the most representative is the poem "We were prisoners inside our lives" – but this is not so important, when in front of our eyes new world rises.