agonia
texts
comments
members
Collections
workshop

Online Bookshop
classics
chat
photo
Literary TopSites
links
links



Recommended Reading
■ Hatefully
■ s m i l e
■ Epistle of a millennial
■ so, listen...
■ 3
■ (in the doorway)
■ My white horse dressed in butterflies
■ The bridge
■ God save the sellotape
■ Damn the rain
■ The Garden Of Earthly Delights
■ LETTER. thinking of you
■ To the bone
■ unseen labyrinth of nostalgia
■ chora
■ facts


Romanian Spell-Checker
Poezie - Poezii
Dictionar de rime
proza, eseuri, literatura
Literary TopSites
noutati IT, jocuri
Romanian Trends
Laptop

Contact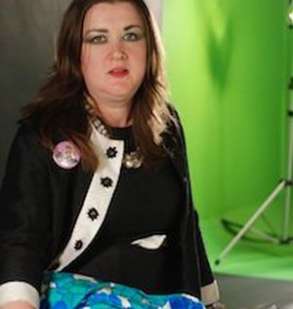 Deborah Tyler-Bennett: \"The audience for poetry and poetryís readership is small but dedicated\"
article [ Interviews ]
Compilation: Cultural Crossroads

- - - - - - - - - - - - - - - - - - - - - - - - -
by Sinziana Mihalache [msanzy ]
2011-02-11 | |
Deborah Tyler-Bennettís current collection is Pavilion (Smokestack, 2010), set in Brighton, her first was Clark Gable in Mansfield (Kingís England, 2003), selected poems are in Take Five (Shoestring, 2003), and a new collection, Revudevilleís forthcoming (Kingís England). First poems from Anglo-Punk (sonnet sequences on Regency dandy Beau Brummell) have been published (UK, Ireland, US). A chapbook collection of three portraits in poems, Mytton, Dyer, Sweet Billy Gibson, is forthcoming (Nine Arches Press, 2011). Many of her poems are influenced by vintage fashion which she collects and wears.

Some of her workís translated into Romanian (also broadcast on Romanian National Radio). She has had over 400 poems and short fictions published (UK and internationally), and co-wrote The Victoria and Albert Museumís creative writing web-package. She edits Coffee House magazine. In 2001 she won the Hugh MacDiarmid Trophy at the Scottish International Poetry Competition.

Regularly performing her work, recent readings have included Castor and Pollux Modern Artwork (Brighton), Beeston International Poetry Festival (Notts), Keats Festival (London), Poetry in the Crypt (London), and Callander Poetry Weekend (Scotland).

She works as a poet for many national galleries and museums, including workshops for The Science Museum, The National Gallery, The Collection, The Usher Gallery, and most recently being resident poet for Sussex Day at the Royal Pavilion Tearooms, Brighton.

In summer 2010 she was a Poetry Lives Here resident writer at Keats House, Hampstead.

Web pages can be found at: www.poetrypf.co.uk/deborahtylerbennettpage.html





What defines your poetry today and by extension, British contemporary poetry?
Itís probably much easier to talk about your own poetry than British poetry in general. What I would say about British contemporary poetry is that whatís wonderful about it is the diversity of poets and types of poems that are out there, constantly changing and inspiring. There are lots of Britains, I think, and various kinds of British poetry, and poetry relating to Britain. Also, poetry in places such as Scotland has its own particular cultural background, where, partly due to Burns societies and poetry performance as integral to life from childhood on, poetry seems part of the rhythm of growing up for many individuals. Over the years Iíve been very influenced by visits to poetry events in Scotland, a place where poets like my self have found real welcome. Itís also interesting to consider that in Scotland and Ireland, where oral poetry is still part of the living landscape, storytellers, ballad singers, and poets often occupy the same stages (with some performers being all of the above). Iíve also been influenced by many Scottish and Irish poetry and short fiction journals, particularly in their treatment of short fiction, which I also write. My own poetry, I hope, is always open to change and influence. I think I write about themes such as identity and sense of place, particularly through settings such as Brighton, where my current collection, Pavilion, is placed, but that I filter these through images from British popular culture. I like experimenting with mixed time periods, and have characters speak to the reader in poems. Narrative poetry, and how contemporary voices can adapt this, really interests me, as does using traditional form in differing ways.

Do you find inspiration in other contemporaries?
Yes, and I think that the idea that writers should be readers of contemporary pieces both in full volume and in small press magazines is absolutely vital to how poetry works. Iím an editor too (of Coffee House magazine) and consider that reading new work is a privilege. You never know what youíre going to come across, and a new and exciting piece of work can really keep you going with what youíre doing.

Can you tell me a few contemporary British and international writers that you consider promising and why?
Perhaps a few aspects which you find inspiring in themÖ There are so many contemporary voices that I like that this questionís difficult, and also there are many British contemporary small presses that are great. I really enjoyed Jeremy Reedís new collection, Piccadilly Bongo from Enitharmon, and loved the fact that it was twinned with a CD of Mark Almondís Soho Songs. I think that it grabbed me because it was two fabulous artists working on similar themes, and set in areas of London that have such poetic resonance. I like the idea of poetry being twinned with other art forms, and work a lot with visual art. I also really like poetry by Roy Fisher, who I saw read recently and enjoyed his precise, laconic style. I think one of the great things about the British poetry scene is the culture of readings, as you can hear the voice of the poet transform words you loved on the page, and readings with open-mikes are a good way of hearing new voices.

Do you find it more comfortable to write in free verse or in rhymes? Which style is more dominant in your writing and why?
I actually like writing both, and, in a way wonder if you can have free verse without knowing how formal poems work. Itís always seemed to me that free verse (or mixed-form, I never really believe a verse if free of form) relies on the poet to construct the metrics/ stanza form and that this is better achieved if you know how lines work formally. I think if you took example from another art form, itís a bit like Picasso knowing how abstracts work because heís so good at formal composition. This doesnít imply that other artists moving from formal to the abstract will become Picasso, or even adopt his styles, but I do think rules are best broken after playing with how they actually work. I write a lot of sonnets, and think that after working on strict fourteen line poems, going for longer, self-arranged compositions, is informed by them. Maybe the same is true vice versa, but I think that the more formal poems a poet attempts, the more their Ďvoiceí emerges in whatever else they write.
Formal poems are like having a tool-box, and the more tools you can use, the better your craft becomes.

Do you think writing poetry is enough to make a living, considering that poets are active in collateral activities as well?
I could be flippant here, and say that there probably arenít that many wealthy poets in the world. I do think that poetryís a vocation, and that anyone considering doing it to make money should probably re-consider. However, itís interesting that poetry makes its way into many public services in Britain and worldwide (tube trains, buses, pamphlets for hospital foyers, public art installations to name but a few) and thus is all around in a way many people donít often think about. Poetryís an underpaid art form in many ways, considering its almost constant public presence.

What do you think the audienceís preferences go for now? (prose or poetry) In Romania, for instance, there is this constant concern that the youth is not reading anymore.
I think from what you can see on trains and in public places, prose is more read than poetry, but, as I suggested in the answer to the previous question, poetry is often all around, from influencing the way advertisements are written, to poems in public places. I think one answer is that, in Britain, as with other places, the audience for poetry and poetryís readership is small but dedicated. Every so often, media suggestions imply that poetryís the new stand-up-comedy or rock and roll and (while maybe containing elements of both from time to time) that new huge audiences will develop. What such reports often fail to grasp is that poetryís audience remains pretty much constant, and itís the dedicated readers that keep it surviving. I see young people reading in public places, and meet many young poets, so I donít think that itís a dying art form with an older reader-ship. I think art forms have to celebrate their young talent, as well as established voices, as young poets will carry on what you love. I do many schools workshops, and there are some terrific young writers out there, who do read and hopefully will keep writing.

To what extent do other activities influence your writing? And vice-versa.
I do a lot of readings and workshops in art galleries, and draw (some of my drawings being published) and thus visual art, both contemporary and historical, influences my writing a great deal. The painter Duggie Fields really influences my work, with his bright palette, maximal aesthetic and images from fashion. I think poetry probably influences everything you do if you write it all the time, even if you think some activities have little to do with it. Often, something finds its way into a poem that seemed totally unrelated at the time I was doing it. Another influence on my work is the vintage fashion that I collect and wear, as it makes me think of people who might have worn it previously and also provides links to the past whilst appearing contemporary. British cinema, particularly from the 1940s and 1950s influences my work, as does pop music and culture.

How did your collaboration with poetry pro and Mrs.Lidia Vianu start and how has it evolved?
The Poetry PRO project has been a wonderful one with which to be connected. From the translation of single poems to having work on the radio in Bucharest, which were fascinating to hear in another language, and poems on the Translation Cafť site, the project appears to have been ever expanding. Lidia Vianu also is one of those people who are vital to the poetry scene, as they expand horizons for both poets and readers, and work tirelessly on behalf of their art form.

Some of your poems have been translated by students in Mrs. Vianuís MA programme and have been included on websites and journals/volumes. Have you had similar offers from other countries, and if so, how was the reaction of the audience, or perhaps of the translators?
Iíve been published in Ireland, the US, Austria, the Czech Republic, Spain, and elsewhere, but Romaniaís was my first full translation. Iíve read in Belgium, and had my work considered by students at the University of Ghent, and itís always interesting to see peopleís reaction to it. My first volume, Clark Gable in Mansfield, contained a lot of poems set in Nottinghamshire (in the East Midlands) and some words of Nottinghamshire dialect, because I wanted the poems to be reflective of my Grandparentsí generation. Itís always interesting explaining dialect words and phrases to people outside the community in which you grew up, let alone in foreign places.

I believe this was in some way a means to promote your writing. Do you welcome the promotional aspects of writing? (interviews, competitions, readings etc)
I think that any writerís lucky if people take an interest in their work. I enjoy reading, and believe that whether this is to a large or more intimate group, itís great that people still come out to hear poets read. Recently, I read extracts from my current collection, Pavilion, which is largely set in Brighton, to tables of people at the Royal Pavilionís tea rooms, there for Sussex Day, a celebration of local produce. It was a lovely dayís reading, and that sort of performance, to small groups eating meals, is wonderful to do. To me, any event that promotes poetry, whether taking place in schools, galleries, bars and pubs, or libraries, is poetryís life-blood. As a reader, I like interviews with poets, and reading what got placed in competitions, and, again, think that any medium that spreads the word has to be a good thing.

Is there a constant connection/correspondence between you and the translators of your poems (for any of the languages youíve been translated into)? Or do you find it useful?
I think the connection between poets and translators is the desire to transmit poetry to an audience.

In collaborations such as this one (i.e. the MA translation programme) are the poems which are translated your choice, or did you let the professor choose them (before giving your permission)?
I sent a set of work out for consideration, and poems were individually selected from my batch by the Professor. Again, itís always interesting to see what other people select from your work, and what gets responded to.

Once, we had a class on brainstorm translation with poems written in English by a Romanian contemporary poet (so the translations were from English into Romanian). She was also present and she confessed that she found it awkward to be there and comment on our word choices but it was also challenging. How would you feel about such an experience? (or perhaps you have already taken part in such a class).
I think anything which is your work under discussion and scrutiny has its awkward moments, but itís also fascinating to see how people read and what they read into your work.

Your activities concentrate a lot on collaboration with museums and various packages for web visitors/ poets-to-be etc. What was the impact upon young writers (I mean those who aspire to be poets/writers)?
Thereís something so exciting about seeing writers of whatever age respond to objects and pictures, and devising exercises both alone and in collaboration with others for writers to respond to. When a museum or gallery sends examples of what was written as a result of your ideas, itís really interesting, and can inspire your own writing, I think.

Besides these actions, what other suggestions would you make for an aspiring writer today?
Keep writing, keep a notebook, and keep having a go at different forms. That Beckett injunction to Ďfail, try again, fail betterí is a good one, I think. To me, writing only improves and becomes interesting with craft. Iíd also urge them to read as much as possible, and to have a go at as many different forms and techniques as possible, and to try and always feel as though thereís something new to learn. Also, Iíd advise them to go and see as many poets in performance as they can, and listen to recordings of poets reading work aloud, and to read their own work aloud (thereís no substitute for this in hearing things that donít work).

You have been the editor of The Coffee House for many years. How challenging is the job?
The magazine is still going and Iíve edited it for eleven years. The connections that you establish tend to endure over time. The magazine is small, and I think little magazines are easier to keep going than larger concerns. Charnwood Arts, who produce Coffee House, have shown real commitment to it over the years, and editors need that commitment.

Considering you are multi-tasking, do you find it easier to write when you have in front of you a precise picture/object? Or when you are simply following an idea?
It depends on the individual poem or short story - As each seem to have their own requirements, and you never really know until you start what those will be. Sometimes, a precise picture or object will lead you where you didnít expect to go, at other times the idea might lead you to something much more formal than you expected.

Can you tell me a little about the projects you are currently working on?
I have a new chapbook collection, Mytton Ö Dyer Ö Sweet Billy Gibson ÖComing out in the Summer from Nine Arches Press. This is three sets of portrait poems (one a Ďmadí Regency Squire, one a Cumbrian ballad singer, and one my Great Granddad). The last section, on family life, led me to one of the sequences Iím currently working on, Napoleon Solo Biscuits, about growing up in the 1960s and 70s, and icons from those eras. I spent the summer as a Poetry Lives Here writer in residence at John Keats House, Hampstead, and have just finished a sequence of poems from that residency. Some of the themes I grew interested in are forming part-basis of a sequence of poems set in the Eighteenth-Century underworld, working title, The Ladies of Harrisís List. Again, this is a set of differing characters telling the reader their life stories (including a courtesan who speaks in villanelles, and a pimp who speaks in rap) and Iím linking the poems so they can be published individually or in sequence (the first two are due out in Critical Survey).

What is your opinion on the new reading habits of youth (internet, e-readers etc.) in the context where you own works are distributed by the respective channel?
I think the internet has some really good poetry sites, and Iím happy to have work on it. However, I think as with all large media, writers have to be selective about where work appears. For me, new media didnít mean the death of paper culture, as was predicted in some channels, but an addition to it. I think that this will continue to be so. I prefer a book to a screen, and as a reader one wonít replace the other for me.

Do you think that printed books are ďendangeredĒ?
No. I think as a writer I have to be optimistic for my culture. I think that e-books, internet sites, and electronic readers will have their place, but that enough people value print culture to keep it going. This might even relate to the small but dedicated audience that I spoke of earlier in the interview. I also think that for me this may even be an aesthetic question, of paper, texture, and visual difference. Imagine if all paintings hung in a gallery had one type of frame, one canvas, or one thickness of paint. As a writer, I like appearing on screen, but I also enjoy being in a large book, a chapbook on grainy paper that fits in a pocket, or a sheeted publication such as Poetry Scotland. I like seeing paper collaborations between artists and writers, postcards, bookmarks, posters, and words printed on a gallery wall. Print on paper seems an ultimately human art form, with its texture and occasional grainy misprint or inky smudge. Screen and print are fine for me, but not one or the other. I hope that both will prosper, but think that human beings have fought too hard for the liberty embodied by the paper book, to let it go.



| index