---
agonia
texts
comments
members
Collections
workshop

Online Bookshop
classics
chat
photo
Literary TopSites
links
links



Recommended Reading
■ in return for your navy blue shirt
■ Spectrum
■ My life. Mother of mine
■ (half)
■ Green roots. Trampling down death by death
■ The only thing
■ In our image and our likeness
■ passage. if today
■ Us
■ Philosophia Perennis
■ Active rest with hand on the knife
■ Metaphysical guilt
■ a theory of apocalypse
■ s m i l e
■ Epistle of a millennial
■ so, listen...


Romanian Spell-Checker
Poezie - Poezii
Dictionar de rime
proza, eseuri, literatura
Literary TopSites
noutati IT, jocuri
Romanian Trends
Laptop

Contact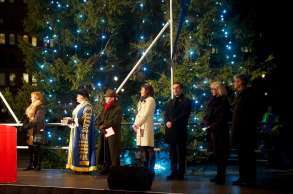 Trafalgar Square Christmas Tree 2013: Lit up with Poetry
article [ Events ]


- - - - - - - - - - - - - - - - - - - - - - - - -
by Corina Gina Papouis [Trinity ]
2013-11-28 | |




Yes! Is that time of the year! The following event has been organised by The Poetry Society. Please read the details presented bellow by Paul McGrane and come and join us:


'From 6pm Thursday 5th December join the Poetry Society and the Norwegian Embassy around the gorgeous Trafalgar Square Christmas Tree - to see it lit up with poetry in a lovely festive event!

There will be carols, switching on of the tree lights plus première of a brand new poem by acclaimed poet Kevin Crossley-Holland, grown from the poems of children across London, which will be read out by three of the schoolchildren involved with the project.

Free to attend: Come one, come all!

More about the project:

The Trafalgar Square Christmas tree was first sent to London in 1947 as a mark of thanks for Britain'Äôs support during the Second World War. Every year the Lord Mayor of Westminster visits Oslo for the traditional tree-felling ceremony. The current Lord Mayor of Westminster, Cllr Sarah Richardson, said: 'ÄúThe annual gift of the Christmas tree is rooted in the historic link between the cities of Oslo and London, and the tree-lighting ceremony is a highlight of the festive season in the capital. I would like to thank Kevin Crossley-Holland and the Poetry Society for bringing the tradition to life for the next generation through this wonderful poem.'ÄĚ

The poem will be displayed on banners around the tree in Trafalgar Square from 6th December 2013 until 6th January 2014

The project, called Look North More Often brings established poets together with schoolchildren to create a poem to go on display around the tree. Poets worked with children from London schools to write poems inspired by the gift of the tree. They looked at how objects, when given as presents, can come to represent more than their worth; instead they can symbolise friendship, love, thanks and more.'

Hope to see you there!