---
agonia
texts
comments
members
Collections
workshop

Online Bookshop
classics
chat
photo
Literary TopSites
links
links



Recommended Reading
■ (half)
■ Green roots. Trampling down death by death
■ The only thing
■ In our image and our likeness
■ passage. if today
■ Us
■ Philosophia Perennis
■ Active rest with hand on the knife
■ a theory of apocalypse
■ s m i l e
■ Epistle of a millennial
■ so, listen...
■ 3
■ (in the doorway)
■ My white horse dressed in butterflies
■ The bridge


Romanian Spell-Checker
Poezie - Poezii
Dictionar de rime
proza, eseuri, literatura
Literary TopSites
noutati IT, jocuri
Romanian Trends
Laptop

Contact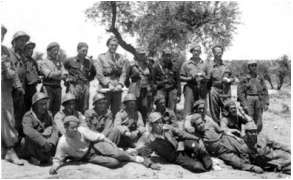 No pasaran
article [ Society ]
A sad anniversary.The Jarama Valley Battle

- - - - - - - - - - - - - - - - - - - - - - - - -
by Eugen Galateanu [Eugen ]
2004-02-07 | |
In 1937 the fascist army led by General Orgaz was not able to reach Madrid. It was stopped, with great losses, at Jarama Valley, by the Republican Spanish Army helped by the 14 th and 15 th International Brigades and the Abraham Lincoln batalion.
I propose to commemorate now the best of the best, these young, brave people from all the world that came in support of the Spanish people, that fight at Jarama,Madrid, Guadalajara, Brunete, with obsolete armament against one of the best armies in Europe and stopping them.They died on the Arganda bridge, died on the sierra's , on the streets of Madrid, at Casa de Campo, etc... they died-but the world was blind.
They waited to be helped, they waited to be supported by the "democracies". In vain.Their sacrifice was in vain. Millions of peoples must die in order to understand once that fascism is evil.
Don't forget the suffering of the spanish people in this fight for the ideals, the dreams and the hope for a better future of a whole generation against ignorance, hate and the ideas of feudalism.