---
agonia
texts
comments
members
Collections
workshop

Online Bookshop
classics
chat
photo
Literary TopSites
links
links



Recommended Reading
■ in return for your navy blue shirt
■ Spectrum
■ My life. Mother of mine
■ (half)
■ Green roots. Trampling down death by death
■ The only thing
■ In our image and our likeness
■ passage. if today
■ Us
■ Philosophia Perennis
■ Active rest with hand on the knife
■ Metaphysical guilt
■ a theory of apocalypse
■ s m i l e
■ Epistle of a millennial
■ so, listen...


Romanian Spell-Checker
Poezie - Poezii
Dictionar de rime
proza, eseuri, literatura
Literary TopSites
noutati IT, jocuri
Romanian Trends
Laptop

Contact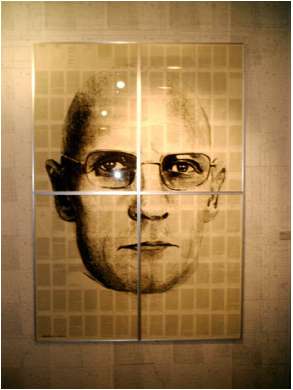 Michel Foucault: the Anonymous Discontinuity of Knowledge
article [ Creative ]


- - - - - - - - - - - - - - - - - - - - - - - - -
by Axel Lenn [axel24 ]
2004-10-19 |



This text is a follow-up |
Philosophical mentor of the Ž60s, controversial on the French cultural scene, Michel Foucault was philosopher, historian, essayist, psychologist, professor in France and Tunis. His numerous volumes ["Folie et déraison. Histoire de la folie à l'ùge classique" (1961), "Naissance de la clinique.
Une archĂ©ologie du rĂ©gard mĂ©dical" (1963), "Les Mots et les choses. Une archĂ©ologie des sciences humaines"(1966), "L'ArchĂ©ologie du savoir" (1969), "Raymond Roussel" (1962), "Hommage Ă  Georges Bataille" (1963), "Language to Infinity" (1963), "La pensĂ©e du dehors" (1966), "L'Ordre du Discours (1971)", "Surveiller et punir. Naissance de la prison" (1975), "La VolontĂ© de savoir. Vol. I of Histoire de la sexualitĂ©â€ (1976), "L'Usage des plaisirs. Vol. II of Histoire de la sexualitĂ©â€ (1984), "Le Souci de soi. Vol. III of Histoire de la sexualitĂ©â€ (1984)], the academic and civic work, media debates imposed him as a new school of thought classic in France – quite paradoxical this canonization since Foucault's ideas appear controversial, really subversive here and there.
Influenced by Nietzsche and Heidegger, Marx and Freud, he explored the shifty schemes of power in society contending time and history alter mankind's basic truths. His work attempts to re-locate events in new perspectives sustained by erudite research, exceptional descriptive talent and original interpretation. He reunites historical ideas and hypotheses in a literary manner with artistic touches, re-discussing the traditional perspective on History in identifying discontinuity elements that allow or impose the transition from one era to another.
The foremost concept of his studies on history is "the archaeology of knowledge", contending that present civilization is the result of summing up successive ages differing not only in men and events but in thinking manner, in episteme as well.
To an innocent reader the titles and subtitles in Foucault's bibliography are real pitfalls. "Histoire de la folie" is not really a history of madness, though it uses tons of historical data and many original documents, because the author considers madness not a coherently induced condition, but a process, a function. Likewise, "Surveiller et punir. Naissance de la prison" is not a history of how prison appeared as the subtitle indicates, but a book on power. Foucault presents a less indulgent view on power that is not simply negative, though cruel, abhorrent and repressive; power is continually produced and fed by human need.
The difficulty of identifying Foucault's subjects is due to his lack of belief in anthropological constants, in a general theory on history and mostly to his complex, idiosyncratic and autarchic discourse many times approachable by some initiates alone. Reading Foucault reveals subtle irony, playful frame of mind apparently shaky and frequently skeptical. Many passages in his books, but chiefly interviews and articles offer bits of self-portrayal, Foucault admitting intersections with science historians and the ®50s' anti-psychiatric trend.
Involved in social issues, he's to be found among the promoters of a generalized contesting movement shaking France in 1968. Following detailed investigation in hospitals, asylums and prisons, he brings up again the enforcement of human rights in confining institutions. He takes active part in fighting for the removal of such structures that embody, in a concentrated manner, the strategies of social surveillance and domination stage-managing the society.
He gets deeply involved in the issue of modern state and power claiming that a limited number of leaders initiated in universal ruling taboos can align all the disciplines of knowledge to their objectives thus contributing to the individual's enslaving and colonization.
In mid ®70s Foucault is mostly interested in the history of sexuality, announcing a series of 5 books that was never finalized and that should have dealt with sexuality in modern times. Still, he published 2 volumes in the ®80s: "L'Usage des plaisirs" and "Le Souci de soi" on sexuality being contended by ancient Greeks and Romans. He declares he's gay, unwilling to be considered a gay thinker though he gets involved with Gai-Pied during his last years. He acknowledges there is love in gay and lesbian couples, influencing the appearance of a "social construction" program that will impose a new approach, considering human beings and their sexuality are products of the spirit and time they live in. He brings up the oppression model once more, claiming sexual minorities appeared as the result of negative social pressure. He dismisses the idea of trans-historical homosexuality – a model sort of stable that would impose a social typology out of time.
He dies in June 1984, another AIDS victim, not before declaring in a final interview: "The quest for some form of morality universally acceptable (
) seems a catastrophe to me".

| index