---
agonia
texts
comments
members
Collections
workshop

Online Bookshop
classics
chat
photo
Literary TopSites
links
links



Recommended Reading
■ in return for your navy blue shirt
■ Spectrum
■ My life. Mother of mine
■ (half)
■ Green roots. Trampling down death by death
■ The only thing
■ In our image and our likeness
■ passage. if today
■ Us
■ Philosophia Perennis
■ Active rest with hand on the knife
■ Metaphysical guilt
■ a theory of apocalypse
■ s m i l e
■ Epistle of a millennial
■ so, listen...


Romanian Spell-Checker
Poezie - Poezii
Dictionar de rime
proza, eseuri, literatura
Literary TopSites
noutati IT, jocuri
Romanian Trends
Laptop

Contact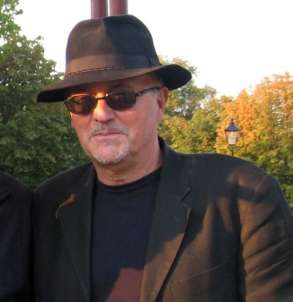 Interview with Chris Hardy - Between poetry and music
article [ Interviews ]
Compilation: Cultural Crossroads

- - - - - - - - - - - - - - - - - - - - - - - - -
by Iulia Tanase [iulia_tanase ]
2011-02-17 | |
Interview with Chris Hardy - Between poetry and music



Chris Hardy is a British poet and musician. He lives in London, but in his earlier years he has also lived in Africa and the Far East. These days he is dividing his time between his frequent travels to Greece and Italy, poetry, music and the part-time classes that he teaches at the London University.
His poems have been published in magazines like Poetry Review, Tears in the Fence, Acumen, the North, Smith's Knoll, Frogmore Papers, Dreamcatcher, Wasafiri, The Rialto, Slow Dancer, Obsessed With Pipework, Orbis, Pennine Platform and Brando's Hat.
Some of these poems have received prizes at competitions as The National Poetry Society's and London Writers' and can be found in anthologies such as New Poetry 5 (Art's Council, Ed. Jon Silkin).
A complex artist, Chris Hardy lives his life through poetry and music.


Hello! How has the year 2011 started for you, professionally?
It is cold and wet here in London .. I have been recording busily with the group LiTTLe MACHiNe – we set well-known British poems to music and perform them: Blake, Eliot, Larkin, Carol Ann Duffy, Shakespeare etc. We are trying to get gigs at Festivals, very hard to do without an agent to put a word in for you .. we are all experienced live performers ..

What poets did you enjoy as a child, as a teenager, and, later, as an adult?
I began, at School, by suddenly waking up to what Keats, Blake and the English World War I poets – Owen, Sassoon etc,- were trying to do. I went to a boy's boarding school in the country and the beautiful hills and fields of Sussex also affected my mood and response. There were poets I did not like, eg. Chaucer, Spencer, Milton ... So I think my taste was set early – for the shorter lyric, written with and about powerful feelings and events.

What would you say about the evolution of your poetry preferences over time?
I have become much more familiar with modern writers, via poetry magazines for example – there are thousands of good writers out there, all over the world, not doing it for a living but because they want to, and then have the energy and will to make the effort to get published somewhere. After School, at University, I spent a long time reading the great American poets – Eliot, Pound, Lowell and, later, Plath, Olds, O'Hara, Carver – terrific, simple, powerful writing. These writers are so good you have to be careful not to let their influence show in or affect your own work .. this also happens in music, in playing an instrument and trying to play your own way, in your own style.

About your own poems, in what way have they evolved?
I wait for the poem to appear. I have to have a clue, a prompt – something recalled or overheard for example. I do not write about things I am not a part of or inexperienced in .. this has always been the case and it can mean periods when nothing happens – not unusual I think, in poets. What has evolved is that I work on the initial draft to try and reduce the text and get at the underlying rhythms, which English speech naturally has - iambics etc – and also to expose the rhymes and half-rhymes that my first effort produced. I am much more aware of this now .. I used to rely on 'feel', by which I mean the sense a musician has of how a piece of music is 'sitting' – beat/ pulse = 'feel'. Now I analyse more, the 'feet', syllables etc .. and as a result, for example, produced a series of sonnets recently – these poems were not sonnets at first but I saw that actually there was a sonnet hiding inside each of them – I will append a couple to this .. but they are my own sonnets, not the traditional English form (s).

Every poet has his own, personal, definition of poetry; what is Chris Hardy's?
A carefully laid out path of words that leads to something discovered – discovered by the writer as well as the reader.

Are many of your friends poets? If so, is competition an issue?
I think 'friend' is an important phrase, or idea .. I have very few real friends .. though many colleagues, acquaintances etc A friend is someone who is interesting, even fascinating – not necessarily likeable! Someone you learn from. So those I have are mainly musicians or writers .. but I also consider my wife and children, and my own parents, to be important friends. Guitarists love to help each other and teach each other, but they are also, sometimes overtly, very competitive .. and I know poets are too – you can see this in the many conflicts that go on in the world of letters, this has always happened – Shakespeare was attacked by other writers from the moment he started writing! I go to poetry readings and workshops and I certainly notice if another's poem sounds better than mine – or receives more praise! Is this a good thing or silly? It is best not to allow anything to undermine your confidence as a writer, which feeling someone is 'better' than you is certain to result in ..

How important is it for you to have your work published? Is there any pressure in that sense and does any of your writing emerge as a result to it?
Yes it is essential to me to get my poems published – anywhere and by anyone! Once the poem is finished and once I am sure I like it I want others to see it, and hopefully comment on it and value it, respect it. There is certainly an egotistical element here – but this applies surely to most writers, why else to they go through all the disappointment of rejection? Musicians provide a comparison, again: most will want to get out and play, because it can lead to them playing better, the audience gives something – energy etc – back. With poetry the response of someone taking and publishing a poem justifies the efforts made in writing it, confirms one's own judgment and also, this is important – it gives a meaning to what can seem pointless. Your own musings, writing skills, and sensitivity are of little significance or purpose unless someone else reacts to them. Writing or playing music just for yourself is like writing a private diary, or growing vegetables only for your own table .. But, finally – I never write to get published, to get a poem into a competition, or to write something for a theme at a workshop or for a competition – if a publisher or poetry group invite poems on a subject I will send what I have that fits, not write something to fit – I cannot do this, usually.

On which of the great poets would you like to try out your new work, from time to time? Would you take their advice more than you do the other writers' you interact with?
Ted Hughes – he was always very helpful to anyone who sent stuff in. Seamus Heaney has also commented favourably .. but on the whole I will take advice from anyone if the advice solves a problem I know is there in a poem –

What has been your greatest disappointment as a poet?
That I have not been able to win a major prize and get a publishing deal with a big publisher – Bloodaxe, Carcanet, Picador, Faber .. but I have not anywhere near yet stopped trying!

Your poems are vivid and spontaneous, what was the most peculiar place or situation in which you found yourself desperately looking for pen and paper?
Coming back from the Greek island of Amorgos last June on a big ferry. It was vey hot, searing blue sky, the sort of weather I love .. smooth sea and lots of people all over the place sunbathing, drinking, eating, looking forward to the next island, then Athens .. I had to go down to the hold where the cars were and where the luggage was stacked, find and open my bag and get out a note-book and a pen. Then sit and write while all around were doing the opposite of concentrating on what was inside their heads .. and not allow this to distract me or let them see what I was doing (this in itself would distract me). I wrote about 7 poems 5 of which I like a lot and which have been published .., why did this come about? My mind – imagination – kept throwing up first lines that I instinctively knew would lead to a poem ..See below.


You have traveled very much, even lived abroad. How has that influenced your poems?
Living abroad when I was younger, and travelling still, have definitely prompted poems, providing subject matter but also atmosphere. I spent many years as a teacher in London, and still teach at London University, part-time. I have never written a poem about this part of my experience .. I am trying to work out why – and what this indicates about why I write, and what I write about ..


What is the difference between Chris Hardy the poet and Chris Hardy the musician? Do you consider yourself more a poet or a musician?
The two things come from the same place but it is a puzzle, and a bit of a nuisance, that they do not work together. I write lots of tunes and quite a few poems, but very few songs and I am not greatly impressed with the songs I do write! The sort of music I play is based on English and American folk and blues – with plenty of improvisation, on the guitar. Writing poems is similar to improvising on a guitar – you have some skill and control, as a player or with words, then you allow your imagination to go forward and produce either a line of music or a line of words – and I have mentioned earlier that poetry like music has 'feel' - sound, beat etc. I always try to find a wording that sounds right to me – as well as meaning what it is I want to mean ..


As you know, many of your poems have been translated by Romanian (MTTLC) students; how do you feel about having your work known in Romania?
I feel privileged, proud, pleased – Romania is in the part of the world I am most attracted to apart from England (and Wales), namely the Balkans, the Mediterranean, the Black Sea: from France all the way to Georgia via Italy, Greece and Turkey, then on again to Egypt via Lebanon, Palestine/ Israel/ Syria .. the lands of Homer and Jason.


Are you familiar with any Romanian poets, classic or contemporary?
I'm afraid not – my fault but I plead time and lack of information, as well as not being able to read the language. I am currently reading about Sicily in the 11th Century AD, having just finished Keith Richards's addictive though in some ways horrifying autobiography ...

How do you think poetry will change in the next fifty years?
Writing poems, like playing an instrument, is becoming more and more common and popular – popular music is full of words and there is much more of it about than ever before – people using words to talk or sing, not just to their friends but anyone .. I am afraid poetry magazines and maybe books will decline, in the same way as discs, CD's etc are vanishing – everything is going on-line. This is OK for music as people can download music onto their players and keep listening. Not so good for poems, a small poetry book is so much easier to use than a laptop .. the battery never runs out in a book. And one day the power will go off too.

What are you currently working on?
LiTTLe MACHiNe. No brand new poems but several being considered for prizes, magazines, and quite a few due to be published in various places soon. I have four poems in an anthology called 'The Isles of Greece'. This is published by Eland in their Poetry of Place series. There are terrific editions about Rome, Istanbul, London and many other places. A chosen editor writes linking passages to poems set in or about a place or area that they have selected. The editor of this volume is John Lucas, who has written a great book about Athens, 'Acharnon Street', and is an academic, poet and publisher. I am really pleased with the book, which evokes the Greek islands wonderfully, and of course to have my poems in there alongside Byron, Sappho etc! I am preparing a new collection and steeling myself to start chasing publishers ...


Interview by Iulia Tanase
MA student, MTTLC, University of Bucharest


POEMS

A FEW INCHES

Cool and blonde as gilded steel
she indicates the seat
where I must sit.
A little more off here?
she asks, fingering my brow.
I wonder if she's like this
with all the men
she touches.

Purring clippers, chink of blades,
Spring morning sun warms linen.
Scissors fence before my eyes,
her hips sheathed in denim
maybe lace, move
a few inches from my face.



PHAROAH

So you have fathered a son at 60.
In the photograph you hold him
above the waves
as if he's Moses but
you want to keep him.

He doesn't know you yet.
In five years time
he will roll in the surf
and you will not need
or be able to
rescue him.

He will be so quick
ahead of you
you will ask him
to walk and
when you come
to the school gate
they will doubt
you are his Dad.

Though he will by then
know you are
and think
you will always be there
to hold him
above the waves.

A poem written on the ferry to Athens (9 hours!), about a friend.




EP

I saw the gondola
in a photograph,
carrying your coffin
to the island.
If I could have got there
I would have thanked you for
Here we must make separation
and go out through a thousand miles of dead grass.

You were ashamed enough
for all of us
who privately try
to get to where you
sleep while in our hands
your poem wakes.

Another sonnet – this one about Ezra Pound: buried on an island in Venice he spent his last years in deep depression and guilt about the things he had said and done in and before WW2.



OUT OF DOORS ALL DAY

Nearing the summit crater she said
the volcano
was a woman
warm and brown,
as she walked quickly
upon the steep
hot slopes and I
staggered about
gasping, sure
I was ill maybe
dying.

In the cloisters at Monrealle
she sat to draw
the cool stone arches,
the straight green
rows of myrtle,
the twisted pillars
of the fountain,
while I took pictures
of the tombs
of Norman kings,
buried under
slabs of crimson marble.

Then she went to a city
6,000 feet up
in Africa.
Found a man
who walks the hills
with a staff
across his shoulders,
out of doors all day,
has friends
who live on islands
in Lake Tana,
whose waters spill
into the Nile,
filling the desert
with crocodiles
and grain.

V1 – Etna. V2 – Monrealle Cathedral, Palermo.



| index