agonia
texts
comments
members
Collections
workshop

Online Bookshop
classics
chat
photo
Literary TopSites
links
links



Recommended Reading
■ Hatefully
■ s m i l e
■ Epistle of a millennial
■ so, listen...
■ 3
■ (in the doorway)
■ My white horse dressed in butterflies
■ The bridge
■ God save the sellotape
■ Damn the rain
■ The Garden Of Earthly Delights
■ LETTER. thinking of you
■ To the bone
■ unseen labyrinth of nostalgia
■ chora
■ facts


Romanian Spell-Checker
Poezie - Poezii
Dictionar de rime
proza, eseuri, literatura
Literary TopSites
noutati IT, jocuri
Romanian Trends
Laptop

Contact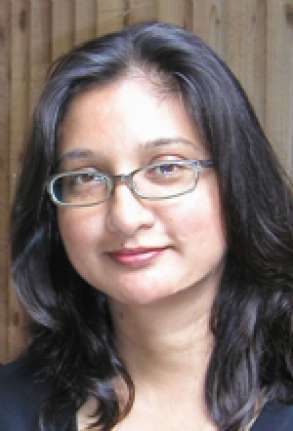 Fawzia Kane:\"I used to consider home as the people you were with, rather than a place, now I'm not so sure.\"
article [ Interviews ]
Compilation: Cultural Crossroads

- - - - - - - - - - - - - - - - - - - - - - - - -
by Sinziana Mihalache [msanzy ]
2011-05-21 | |
Fawzia Muradali Kane was born in San Fernando, Trinidad & Tobago, and came to the UK on a scholarship to study architecture. She now lives in London, and is co-director of KMK Architects with Mike Kane. She has been published in several journals including Agenda, Brittle Star, Poetry Review, Poetry London, Poetry Wales, and Rialto. Her first collection "Tantie Diablesse" is due to be published by Waterloo Press in 2011.



1. You left Trinidad & Tobago at an early age but you write in the spirit of the place. Have you maintained cultural relations with the country? Or have you tried to get involved in the literary life there?

I left Trinidad at 18 to study architecture in university in London, so I guess that's old enough to consider myself a person of the Caribbean. Apart from a sister here in London, the rest of my family is in Trinidad (home, I almost found myself thinking…). I used to consider home as the people you were with, rather than a place, now I'm not so sure.
My family is a strange mixture of scientists and creatives. One side is researchers, zoologists, teachers; the others are artists, painters and carnival costume designers ("mas men").
I'm still in touch, these days more so- due to the internet. I'd say my work is unknown back in Trinidad & Tobago, at least, so far. Any cultural relations at the moment would be vicarious, via fellow Trinbagans here in the UK. There is a group of Caribbean academics, Caribbean Communities in Europe (CACOEU), based in Goldsmiths College who hold regular events, and it's fun to find out about happenings in other parts of the Caribbean too.


2. Although the literary domain in Trinidad & Tobago is "alien" I dare say for most readership around the world, do you think that such a small country has any chance to bring forward some values?

I'm not sure that Trinidad & Tobago could be considered "alien" as we're made up of so many different cultures and races: African, East Indian, European, Chinese, Middle-Eastern - I could list more! And languages- our main language is English, but our history has given us Spanish (our second language) and French also, even Dutch and Moravian in Tobago. Our history and location also means that our sensibilities are Latin American, despite English being our main language. And the result is that this gives us a unique "crossroad" culture and outlook. It leaves us comfortable in our skins, at ease in any society, at any level.

Perhaps "exotic" is a more apt word than "alien". Our cultural mélange has given us a gift for language, both oral and written, that produced 2 Nobel Laureates, V.S Naipaul and Derek Walcott (who lived in Trinidad for many years). I'd say we have a disproportionate amount of well-known writers published worldwide, given our relative small size. Dionne Brand in Canada, Anthony Joseph and Roger Robinson here in the UK, Samuel Selvon and Earl Lovelace to name a few.

There is also a new literary festival, Bocas Lit Fest (www.bocaslitfest.com) held in Trinidad, which has just had very successful 1st year.


3. Why did you attend poetry courses – to polish your skills, to find out about the art of writing, may even to become a professional writer…?

Not to be a professional writer, no. Running an architectural practice full-time does not give me the opportunity to take longer courses such as creative writing degree.

My first short course was over a decade ago, an Arvon Foundation "Starting to Write" one run by Stephen Knight and David Morley. At the end, they made me promise to keep writing. I remember Stephen saying "Don't be disheartened, persist until you can see your book on the shelves of bookshops." If it weren't for that promise, I might have given up, to be honest.

The courses run by organizations such as the Poetry School (www.poetryschool.com), have given me the discipline to keep going, and to be self-critical. The standard of teaching is extremely high, very thoughtful and rigorous. There are a great variety of topics, and experienced tutors with specific strategies. I choose approaches that challenge the way we usually think. Workshop sessions with fellow student's feedback help to polish drafts. I've realized that the most brutal comments often turn out to be the most pertinent (after a bit of a sulk of course!).


4. Can you tell us how has Mimi Khalvati's course changed your view upon poetry?

One of Mimi's great teaching skills (apart from inspiration) is to demystify formal verse for the novice. You begin to develop an ear for the internal rhythm of a line, and the technique of scansion now helps with my prose writing, surprisingly.

I began to understand a bit more on why poetry had an effect beyond the immediate. Mimi's course helped to explain how (and sometimes why) a poem could stay in the mind, and still hold its power, even when metamorphosed in our memory.

But for me, her best gift was to help break down my internal boundaries as a writer. The fear of "correct" rhyme and meter disappeared. Substitution of feet was ok. "Free" verse became less free and easy, as lineation and the shape of the lines turned into a skill of precision. The poem and its effect became more important than intention.


5. Since writing is only your "second job", do you use writing as a pastime? Do you find it necessary at times?

I wouldn't describe writing as a "second job", nor is it a "pastime", which might imply an indulgent hobby. I have found that this is something I have to do. Being a writer is a much a part of my identity as being an architect.
Architects work extremely long hours, and writing for me takes up basically every spare moment outside that. Poetry is work: sometimes hard work, sometimes pleasurable.

I'm sure you know of many colleagues who work full-time to support their writing. Perhaps this works both ways. Maybe one vocation keeps the other grounded, and the other keeps the creative thoughts fluid. But which side does which, I wonder?


6. What is the difference between F. Kane the architect and F. Kane the poet? If any, do these two entities meet in your creation (in either of the domain) and can you explain how?

Surprisingly, I've never been asked that question. I would have said before that there was no join between the two parts, as I have spent many years trying to separate them. Poets can be a source of fun to the architects around me, they claim that poets serve no useful purpose - despite the beautiful spaces some of these same architects create. Very few of my (architectural) colleagues know I write.

"Space" may be an overused word these days, but that is what an architect thinks of: he/she can instantly see how a particular space can be affected by light, shadow and texture of materials, and how our senses would react to all these variables. All of life to an architect is multi-dimensional and sensory. All is architecture.

The parallels between the architect and the poet are probably the thought processes of design and composition. Nowadays, most practices use computers to draw, and so do we. But we prefer the "old-school" method of designing using hand drawing, before transferring the design to CAD for building. The practice works with a lot of sketch models in cardboard and other materials, rather than computer 3-D modeling. It's as if for us, holding something tangible releases a better, more efficient creative process.

Each craft informs the other. The truth is, poetry helps me to communicate better with a client about the design's effect, (after all, most good design is about the illusion created in the viewer's mind, which in turn affects their experience). Poetry also helps with the precision of technical writing. The design process helps the writing of poetry to stay focused, and gives me the confidence of knowing when to discard a direction that just doesn't work for the poem.


7. Your poems have a strong narrative feature, there is the "you" whom the poet addresses (at least in some of the poems I've read) or other first person pronoun forms, which indicate the poet's presence. Is it a trademark or yours?

Perhaps. Most of my work (including prose in recent short stories) are written as monologues of a particular character, and I've been told that there is a consistent theme of witness, whether as observer or listener being addressed, or as the narrator.

I have difficulty in writing poems that do nothing more than "explore a moment", even if I enjoy reading others' work that do just that. Storytelling as an art form is a big part of my upbringing and each poem has its own narrative. Just as important to me, perhaps because I think in visual terms, I try to make the poems connote a place, a clear physical background to the story or event, a literal perspective or "viewing corridor" almost, for the reader. In addition, I try to get aspects of all five senses into a poem. Maybe, that's just playing a game, but I've discovered taste is the most difficult to incorporate without having to overtly mention food!

Sometimes you (i.e. the writer) do not notice the obvious until a reader flags it up. I hope this isn't taken too much as a "trademark" in my writing. No poet wants to be considered too-fixed in outlook and approach.

It may be a truism that there is always an element of autobiography in a first-person literary voice, but I try to explore these differences in the voices of the poems' characters. The lack of empathy in so many people is striking, perhaps because London is so huge and busy like any other metropolis. Some of these poems are little experiments in using the "conversation" between the literary character and the reader, whether they (the reader) can empathize with that character.


8. Do you think that first-person forms of writing are easier to grasp by the audience? Or have you felt it when reading to an audience?

Not necessarily, as it depends on whom the "I" is. If it were clear that it's just a poet recounting some aspect of their particular life, then yes, it would be simpler in that case for the audience to join the dots.

Reading aloud does not give an audience too much contemplative time, so the choice of poem to read would be based on how immediate a quality the particular poem possesses.

On the other hand, as part of the audience, I have listened to poems that have a depth far beyond the first layer of "I understand you". There was a resonance that lingered and triggered other thoughts and feelings. Everyone relates to the word "I" obviously, but there's an unsettling counterpoint when the "I" is so different from yourself, as reader or listener.


9. Who is Tantie Diablesse? Why this name?

"La Diablesse" is a Caribbean creole folk character, a beautiful woman with long dark hair, who lures men into the forest to their deaths. One of her legs ends in a cow's hoof that she hides under long skirts. As the "diablesse" is strong and invincible, she is a source of fear and desire for men, someone indecipherable.

My character "Tantie Diablesse" however was given her name as an insult, by those closest to her. She has forgotten her name, is at least 3 centuries old, and hates the fact that she cannot die. She is an ex-slave, so would have witnessed the changes in the Caribbean's development and people. But she is also treated as if invisible, until relied upon as last resort for help. Perhaps like the "diablesse" itself, her survival and power is due to her great strength of character.


10. Do poems that picture Tantie Diablese as a lyrical character use any traditional rituals/beliefs in Trinidad & Tobago?

Some of the poems do reflect many of these aspects of Trinidad & Tobago. Tantie Diablesse comments on the ongoing legacy of African slavery and East Indian indentured labour in the sugar industry, for instance, using folk song rhythms and even animistic dialogues. She refers to the importance of Carnival to the Trinidadian soul in several areas, including traditional chants as part of the text.


11. Is Tantie Diablese as a reminder of your own country?

Definitely. One of my first poems I wrote in her voice was called "Tantie Diablesse takes flight" and spoke of homesickness and adapting to the change of the seasons "from two sharp splits" of a wet and a dry season, " to gently dovetailed quartets" of the English climate.

Yet, there came a point when traveling back to the house I grew up in Trinidad, the homesickness returned – for London.

Tantie Diablesse has become a completely developed character in my mind, and has helped build my confidence as a poet and writer, but I think she should now be put to rest. It is now time to move on in my writing.


12. What are your forthcoming projects?

This year seems to be the cumulation of the last 12 years of writing!

My first collection, called "Tantie Diablesse" (of course!) has been accepted for publication by Waterloo Press (www.waterloopresshove.co.uk), and is due out autumn 2011. They produce beautifully designed books of the highest standard, and it is an honour to be selected by them.

Also, a long sequence of poems "Houses of the Dead" is due out this year, published by Sylph Editions (www.sylpheditions.com) as part of their Ellipsis Series.

And finally, a book of short stories "La Bonita Cuentista" has just been completed, and is currently being considered by publishers.


| index